SO, LATELY MY MIND HAS BEEN ON CHAIRS. WHY CHAIRS? BECAUSE I AM HELPING A CLIENT DESIGN HER LIVING ROOM AND SHE IS IN NEED FOR 2 MATCHING CHAIRS THAT ARE NOT MODERN, BUT NOT TO VINTAGE. I HAVE BEEN SEARCHING FOR THE PAST FEW DAYS FROM EVERY WHERE TO WEST ELM, ANTIQUE MALLS, CRAIGSLIST AND WEIRS FURNITURE. I HAVE NOT REALLY FOUND THE "THAT'S IT, THEIR PERFECT" CHAIR. BUT SOME THAT ARE CLOSE TO THAT. I LOVE CHAIRS. TO BE HONEST I HAVE AROUND 5 EXTRA ARM CHAIRS IN MY GARAGE THAT I HAVE FOUND ON ALL MY HUNTS AND I CAN'T GET RID OF THEM, BUT I DON'T HAVE ROOM IN MY HOUSE FOR THEM. MY HUSBAND JUST "LOVES" THEM TAKING UP SPACE IN HIS GARAGE. :)
SO HERE ARE SOME THAT I AM THINKING ABOUT...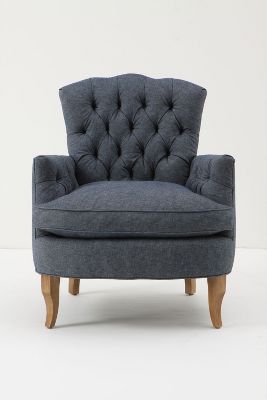 URBAN OUTFITTERS LULU CHAIR: $449.00

I KNOW, A LOT OF CHAIRS. THEY ARE ALL SO YUMMY. NOW JUST DECIDING ON WHICH ONES :)

WE'LL SEE. OK Y'ALL HAVE A GREAT DAY. I'M HEADING OUT TO GET SOME SUN. I AM TERRIBLE AT LAYING OUT AND DOING NOTHING, BUT BARNES AND I ARE GOING AWAY TO AUSTIN THIS WEEKEND FOR OUR 4 YEAR ANNIVERSARY (YAY!!) AND I WANT TO BE A BIT DARKER THAT I AM NOW!